Dublin is a shopaholics paradise. From high street chain shops to independent stores and boutiques, there is something to suit all ages, tastes and budgets. Most of the main international chains have stores in the city with the main shopping streets being Henry Street and Grafton Street on opposite sides of the River Liffey. You'll also find large shopping centres like Liffey Valley and Dundrum Shopping Centre on the edge of the city and easily reachable by bus, rail or car.
But where do you go when you're looking for something extra special? You'll find independent businesses, markets and shops dotted throughout the city and you're sure to find something unique and interesting to remember your time in Dublin. Here are some of our favourite alternative shops in Dublin.
1. INDEPENDENT BOOKSHOPS IN DUBLIN
If you're looking for a top read, something to keep you busy in the airport or a gift book for someone very special, Dublin is filled with bookshops. Support small independent bookshops instead of visiting chain stores and keep the literary spirit of Dublin alive and thriving.
For a huge selection of new and second-hand books, visit Chapters on Parnell Street, a Dublin icon that we almost lost this year. Moving across the city, stop for a browse and a fantastic meal in The Winding Stair, enjoying great views of the river. Books Upstairs is Dublin's oldest bookshop, and you'll find many self-published authors here and books you won't find anywhere else. On the south side, Ulysses Rare Book Shop is the place to visit to find a new edition or a signed copy of your favourite story.
2. BOUTIQUE SHOPPING IN DUBLIN
There is no shortage of boutiques in Dublin. Walk slightly off the beaten track to the side streets around the Grafton Street area and you'll find many designers and brands that you wouldn't find on the high street.
Enjoy a browse up and down South William Street, Clarendon Street, Wicklow Street and Exchequer Street, enjoying vintage shops, homegrown designers and so much more. Temple Bar area is the same, packed with small, one-off shops selling clothing, shoes, accessories, and more – items you won't find anywhere else. Georges Arcade is another favourite among locals and visitors with many lovely gift ideas, handmade clothing and much more in beautiful historic surrounds.
3. HIGH-END SHOPPING IN DUBLIN
It doesn't come any more high-end than the beautiful department store, Brown Thomas. Filled with luxury names like Alexander McQueen, Balenciaga, Dior, and Fendi, you'd better get your credit card ready for a shopping spree here! They also have more unique designer names, footwear, bags, accessories, and skincare over three floors.
For something a little more unique, Powerscourt Shopping Centre is right behind Brown Thomas on South William Street and contains just over 40 boutiques. Make time to shop in Chupi for some special jewellery designs, Cloon Keen for luxury Irish handmade perfume & candles and SO Fine Art Editions, one of Ireland's leading contemporary art galleries.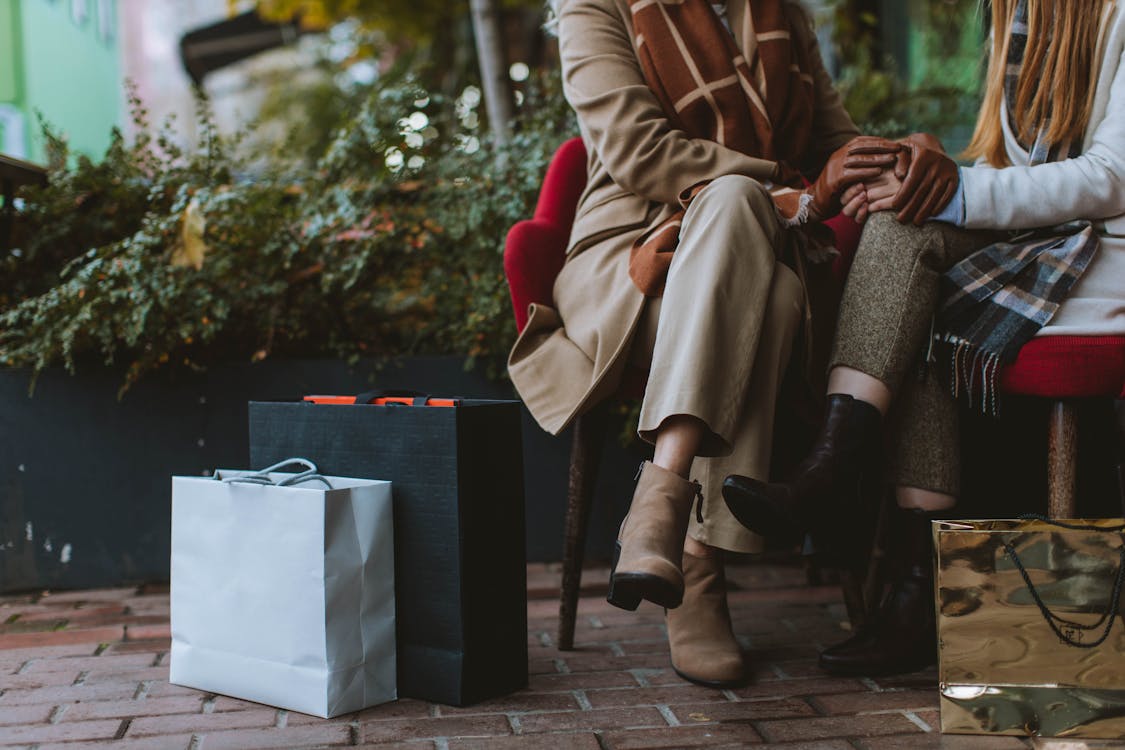 4. UNIQUE SOUVENIR SHOPS IN DUBLIN
One thing we'll never run out of are cheesy, leprechaun-clad souvenir shops in Dublin. Every corner has a shamrock-filled shop, ideal for taking home something fun from your trip, like a shot glass or a Guinness slogan t-shirt. Ireland is known across the world for its creativity, from Aran wool jumpers to some of the finest quality designs this side of the Atlantic.
If you'd like to bring home a true ample of Irish quality from your trip, head to Kilkenny Shop on Nassau Street. You can purchase gifts, candles, jewellery, textiles like blankets and clothing, and so much more, all with a quality seal of approval. Nearby, Avoca also has a great selection of gifts for your friends and family or a souvenir from a trip of a lifetime.
5. MARKETS IN DUBLIN
We think the best way to shop in Dublin is by visiting a market. You'll find unusual crafts and gifts from makers that don't have a place in mainstream shops and pick up some second-hand clothing that is more unique than anything you'll find on the high street.
You can enjoy many markets across Dublin almost every day of the week like Georges Arcade, Liberty Market and Moore Street Market. Weekly markets include Green Door Market, Bushy Park Market, Jamestown Market and more. Occasional markets and monthly dates include the D8 Market, across from the Guinness Storehouse which usually happens on the last Sunday of the month or 'Books and Browsables' Market, St Patrick's Park.
Author Bio: Katie McGarr is resident writer for Aspect Hotel Park West Dublin, a modern hotel, delivering exceptional accommodation and dining experiences for leisure and corporate travelers across Dublin. Writing articles about travel, food, and lifestyle is one thing she finds enjoyable, next to petting her cat.